Travel Opportunities
Fulbright Curriculum Development Program
In July 1995 and again in 1997 the Center for Global Education (CGE) at Augsburg College through a Fulbright-Hayes grant, sponsored a five-week curriculum development program for educators in Namibia. During this time US and Namibian educators developed curriculum to be used in their respective classrooms. For more information visit the CGE web site or cantact them at globaled@augsburg.edu.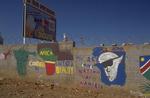 Namibia
Namibia is one of Africa's newest nations, a society in transition after decades of struggle to gain independence from South Africa in 1990. Teachers in the Fulbright-Hayes program met with a diverse cross-section of the Namibian society, participated in home-stays, and developed curriculum units related to either family life, democracy-building, or the environment.
The Center for Global Education at Augsburg College is nationally recognized for its work on experiential education in the Two-Thirds World. The Center was founded in 1982 to help North Americans think more critically about global issues so that they might work toward a more just and sustainable world.
Fulbright-Hayes Teacher Exchange-Since 1946, the Fulbright Teacher Exchange Program has helped nearly 23,000 teachers and administrators contribute to creating mutual understanding between the United States and countries around the world.